Member Bio
Joined

Sep 21, 2013
Messages

9,745
Reaction score

8,752
A company known as the Brown Group has consolidated property on the west side of Bayview Ave. between Soudan Ave. and Hillsdale Ave and is proposing to build what it says would be a nine-storey mixed use structure there. A notice was circulated in the neighborhood in recent hours. It states that a meeting is scheduled to tell residents about "the rationale for the proposed design" of the building. It says the developer is looking for feedback. A building of nine storeys would require changes to the official plan and the residential nature of the block between the two side streets. The development would take out the properties between 1674 Bayview (the Hillsdale Apartments) and 1684 Bayview. As well, it would remove 720 Hillsdale and 701 to to 713 Soudan. The meeting is scheduled for Wednesday, December 3, 2015 at 7 p.m. in the Leaside Library on McRae Drive.
http://www.bayview-news.com/2014/11/9-storey-mixed-use-bid-for-south-bayview.html?m=1
Same group responsible for The Berwick on Duplex near Y+E and Willow Park near Bayview&Finch. Looks like they've consolidated the properties between Soudan and Hillsdale on Bayview and intend to build something out of it. I expect heavy opposition from Councilor Matlow.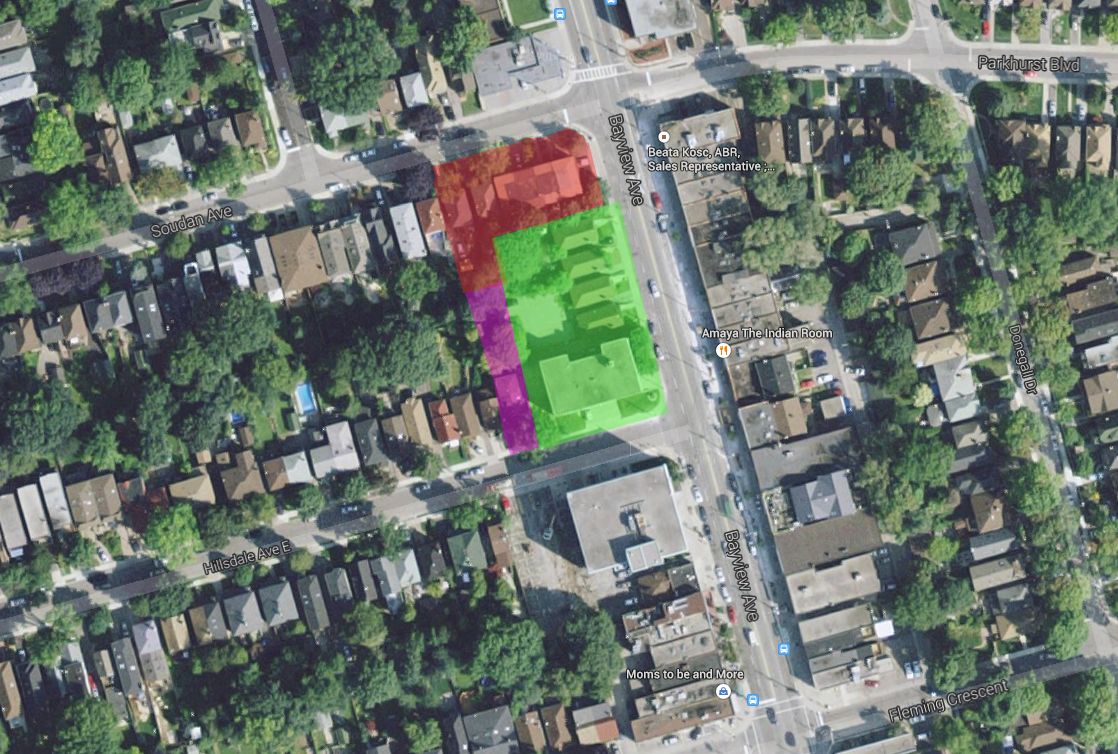 Red - 701 to 713 Soudan Ave
Green - 1674 to 1684 Bayview Ave
Purple - 720 Hillsdale Ave E
Maybe a bit premature on the thread but I've always said that what needs to be done in the area is to connect the retail strips on Bayview between Hillsdale and Davisville with the future development node at Eglinton-Bayview where the future Crosstown LRT station will be. That means the elimination of residential houses between Eglinton and Soudan on Bayview. A mixed-use project on this site and the elimination of those houses between Soudan and Hillsdale would be a good start.
9 Stories seems like a lot but it is still comfortably midrise height. Increased density in the area might not be the worst thing for the neighborhood either if it means more customers for the South Bayview retail and restaurants. I don't doubt that Councilor Matlow will succeed in getting it tones down a little though.